Zack Adelman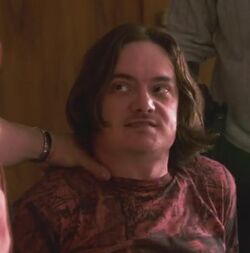 Character Profile
Portrayed By
Todd Giebenhain
First Appearance
Finding Freebo
Last Appearance
Finding Freebo
Character
Full Name
Zack Adelman
Aliases
None
Status
Alive



Characteristics
Age
30s
Gender
Male
Eyes
Brown
Hair
Brown
Personal Status
Marital Status
Single



Professional Status
Profession
Parolee
Drug user
Zack Adelman is a character in DEXTER. He is a drug user and parolee with connections to Fred Bowman and Chicky Hines. Two years prior to the start of the events in season 3 he was busted with Freebo and sent to prison. He and Freebo later got out and didn't see each other for two years. Zack later started hanging out with Chicky Hines and after he was arrested for a carjacking murder, Zack knew he was innocent and who the real killer was but didn't do anything to help him and let him get convicted of murder. Later while the police were attempting to find Freebo, Detective Joseph Quinn and Sergeant Angel Batista went to question him and found him and his girlfriend with drugs. He offered the information on Hines if they let him go which was vetted and verified. Whether he helped got Hines released from prison is unknown.
Ad blocker interference detected!
Wikia is a free-to-use site that makes money from advertising. We have a modified experience for viewers using ad blockers

Wikia is not accessible if you've made further modifications. Remove the custom ad blocker rule(s) and the page will load as expected.