Wendell Owens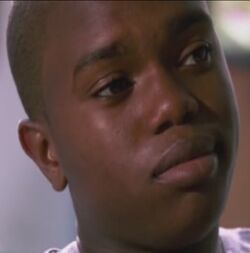 Character Profile
Portrayed By
Marc John Jeffries
First Appearance
Our Father
Last Appearance
Sì Se Puede (Corpse)
Character
Full Name
Wendell Owens



Status
Deceased
Manner of Death
Killed by The Skinner
Characteristics
Age
15 (at death)
Gender
Male
Eyes
Green
Hair
Black (Shaven)
Personal Status
Marital Status
Single
Immediate Relatives
Lorna Owens (mother)
Professional Status
Profession
Fred Bowman's doorman
Wendell Owens was a character on DEXTER. He was the doorman for Freebo who Debra Morgan tried to convince to give her information on his boss.
At the beginning of Season 3 he worked as Freebo's doorman, even witnessing Dexter go to Freebo's place for drugs. After Freebo's disappearance, Wendell stayed under the radar until he was tracked down by Debra Morgan. He was getting familiar and friendly with her until his mother came by and pulled him out of the police station, discouraging him to talk. Later he was paid a visit by Debra where she gave him her card and told him to call. After this the Skinner captures and skins him for information. After getting little info off of him, The Skinner kills Wendell, leaving Morgan vulnerable and cautious. Unlike the previous Skinner victims, who were strangled to death after being skinned, Wendell died from the skinning process itself, which removed the skin on his left arm and chest. After Wendell's death, his mother found Debra's card in his pants pocket and called her to visit saying she had information on the case when she just called to blame her for Wendell's death.
Ad blocker interference detected!
Wikia is a free-to-use site that makes money from advertising. We have a modified experience for viewers using ad blockers

Wikia is not accessible if you've made further modifications. Remove the custom ad blocker rule(s) and the page will load as expected.