Vanessa Gayle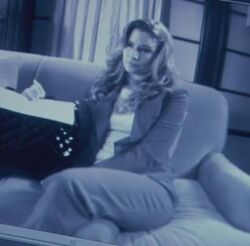 Character Profile
Portrayed By
Suzanne Lanza
First Appearance
Shrink Wrap
Last Appearance
Shrink Wrap
Character
Full Name
Vanessa Gayle



Status
Deceased
Manner of Death
Suicide (influenced by Emmett Meridian)
Characteristics
Age
35 (at death)
Gender
Female
Eyes
Blue
Hair
Brown
Personal Status
Marital Status
Married
Spouse
Alex Gayle
Immediate Relatives
Alex Gayle (husband)
Professional Status
Profession
Prosecutor
Vanessa Gayle is a character in DEXTER. Vanessa is what Detective Angel Batista calls a big time prosecutor, and her husband Alex Gayle claims that she put away a lot of criminals in her time. Unfortunately Vanessa is found dead in her bathtub, apparently having shot herself though her husband refuses to believe it. Dexter Morgan connects her death to that of two women who killed themselves the previous year, Meghan Dowd and Carolyn Jillian realizing that they all visited the same therapist Dr. Emmett Meridian. Dexter schedules an appointment with the Doctor using the alias Sean Ellis, ultimately discovering the truth behind the women's deaths. Dr. Meridian prescribed each woman medication that weakened their minds, then abruptly ended the course of the medications, then, manipulating the women in their depressed ststes, he was able to convince each woman to kill herself with a handgun. Dexter later catches and kills Meridian, avenging the three women.
Humorously, Dexter refers to the three as the "Suicide Sisters".
Ad blocker interference detected!
Wikia is a free-to-use site that makes money from advertising. We have a modified experience for viewers using ad blockers

Wikia is not accessible if you've made further modifications. Remove the custom ad blocker rule(s) and the page will load as expected.