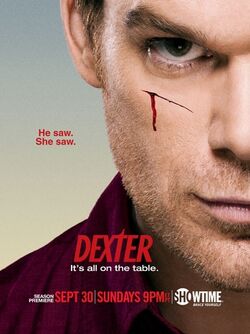 Finally! A new season of Dexter is upon us! Season Seven begins on September 30th with the premiere episode "Are You...?" and true Dexter die-hards are definitely going to want to join our weekly live chat party! Dexterama already hosts a chat room, so why not get together with other fans to speculate beforehand, freak out during, and decompress after each episode!?
(speaking of speculation, check out my Season 7 Predictions guide and share your input!)
Please join us at 9PM (or before and after if you're really into it), both East Coast or West Coast, to watch and live chat with other Dexter fans as you watch the show and sound off scene-by-scene!
To join the chat for Episode 701: Are You...?
CLICK HERE!
Ad blocker interference detected!
Wikia is a free-to-use site that makes money from advertising. We have a modified experience for viewers using ad blockers

Wikia is not accessible if you've made further modifications. Remove the custom ad blocker rule(s) and the page will load as expected.