Welcome all you blood craving, serial killer loving, and desperate fans of Dexter. We have only 100 days left until we all become avid Dexter groupies. I am here to give you all the spoilers on Season 7 thus far. Remember not everything here is 100% sure. And remember this is a spoiler zone so please don't read if you're weird.
First we will start with the teaser released by ShowTime. This trailer is named "Truth Brings Light".

We know that Deb walked in on Dexter doing the "Deed", but what will she think? She only sees Dexter killing The Dooms Day Killer and not being a serial killer. The trailer may also give glimpse into the first few seconds of the Season Seven premier. Deb tells Dexter to get away from the body.
Okay, so what else do we know?
We know Matt Gerald from Avatar and Lauren Mayhew (who played mostly supporting roles) will be guest stars in season 7 more specifically episode three titled "Buck the System"
Episode 4 is suppose to be named "Run". The episode began production on June 27, it's written by Wendy West (4.09 Hungry Man), and directed by John Dahl. "Run" officially airs on Sunday, October 21.
The first two minutes of Season 7 episode one will be shown at Comic Con San Diego! Say good bye cliffhanger. Comic Con begins Thursday, July 12, 2012 and will end Sunday, July 15, 2012. (Suppose to be shown on the 12th)
Prior to the DEXTER panel, ShowTime will also debut the first chapter of the new season of the animated webisode series "Early Cuts: All In The Family," narrated by Michael C. Hall, written by Dexter producer Scott Reynolds and illustrated by celebrated comic book artist David Mack. "Early Cuts: All In The Family" continues to tell important stories from Dexter Morgan's past – this season written thematically to tie-in to the season six cliffhanger, as Dexter reflects back on other instances where his sister, Deb, has sensed his darkness
TVLine's Michael Ausiello.
Question: Do you have any scoop on Dexter? —John Ausiello: Dex may want to stock up on singles: Strip clubs (one in particular) will play a sizeable role in Season 7.
Parenthood's Savannah Paige Rae is speculated to play young Debra in Season 7 premiere.
Scott Buck: "We'll begin the new season in an uncomfortable position of Debra shining a light on Dexter, and asking: "Who are you?"
Episode 1 to be named "Are You…?"
According to TVGuide.com, instead of one Big Bad, this season will have several — and a Ukrainian strip club owner named Sirko (Ray Stevenson) looks especially psycho.
Episode 2 "The Shadow Knows" (See casting pictures Dexter Daily
Via press release: Actress Yvonne Strahovski has joined the cast of the Emmy®-nominated SHOWTIME® drama series DEXTER. Strahovski, who will appear in a multi-episode story arc in the upcoming seventh season, will play the role of Hannah McKay, a strong, independent woman with a past that she's struggled to put behind her. As a turn of events leads Miami Metro Homicide to ask for her help in solving some old cases, Dexter works with her and begins to wonder if there's more to this woman than she's professed.
Via TVLine.com: Kellan Lutz's onetime leading lady will soon be sharing the screen with Dexter Morgan.
Swedish born actress Katia Winter, best known for her role as Lutz's seductress in last year's Hunger Games-esque action thriller Arena, is joining Dexter's Season 7 cast in a recurring role, TVLine has learned exclusively.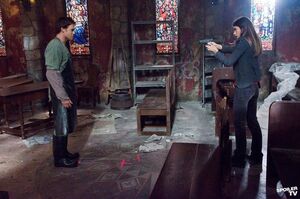 Almost all information comes from Dexter Daily
If I forgot anything please comment!
Ad blocker interference detected!
Wikia is a free-to-use site that makes money from advertising. We have a modified experience for viewers using ad blockers

Wikia is not accessible if you've made further modifications. Remove the custom ad blocker rule(s) and the page will load as expected.