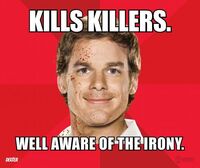 Love memes? Who could get enough of impact font? Showtime will be releasing funny memes based on Season Seven of Dexter. Dexter also isn't the only Showtime show that will be getting memes--can you imagine what some of the others would look like?
For now, the Dexter memes show Dexter Morgan with a blood-spattered face, on a red background. I have to say, I chuckled out loud at a few of these.
The memes also build up to Comic-Con, where a sneak peak of Season Seven of Dexter will make an appearance (Um...awesome? Can we say "major cliffhanger"?) Dexter will be at Comic-Con on Thursday, July 12 at 6 pm.
Check out the memes below!
Source: Entertainment Weekly
---
---