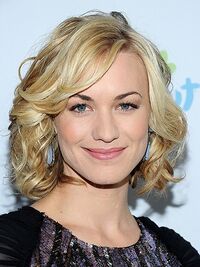 We all know that the last season finale of Dexter ended with a major cliffhanger in several ways--will Dexter finally get caught, and on a stranger level, is he going to get together with Debra Morgan? Or is that just too weird?
Well, it seems that Yvonne Strahovski, gorgeous star of Chuck, will be joining the Dexter cast for a multiepisode arc. She will play Hannah McKay, a strong and independent woman who is helping Miami Metro investigate old cases that have been reopneed. Meanwhile, Dexter Morgan thinks there might be more to her than she shows.
In other casting news, Katia Winter will play a Russian stripper who works at a Miami club, Jason Gedrick will play the manager of the club, and Ray Stevenson will play the head of a Russian organized crime syndicate.
So, will Yvonne Strahovski's character be a love interest? After all, she is quite beautiful, and from everything I've seen, it appears that on a 2:1 basis, Dexter prefers blondes. But then again, Dexter seems capable of being around gorgeous women without feeling anything (does he ever really feel anything?) so maybe he'll be strictly suspicious of her, and not at all attracted. What do you think? Comment below and let us know!

Source: Hollywood Reporter ]
---
---
Ad blocker interference detected!
Wikia is a free-to-use site that makes money from advertising. We have a modified experience for viewers using ad blockers

Wikia is not accessible if you've made further modifications. Remove the custom ad blocker rule(s) and the page will load as expected.