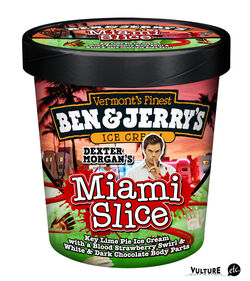 If you just can't get your fill of Dexter, buy yourself a piece of "Miami Slice," a Dexter-flavored ice cream by Ben and Jerry's.
Inspired by Dexter Morgan's bloodthirsty ways, Ben and Jerry Jon Defreest created this flavor as an homage just in time for Season 6. Hint, hint, Ben and Jerry's!
The flavor is "Key Lime Pie Ice Cream with a Blood Strawberry Swirl & White & Dark Chocolate Body Parts."
Yum! Although hypothetical, we totally think Ben and Jerry's should whip this flavor up! Would you try it? It's a perfect treat for a Dexter-themed party!
Source