Comment

1
Jordana Spiro as Third Big Bad of Season 6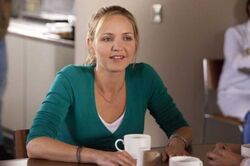 So far we know that Travis and "master" Professor Gellar are the Big Bads of Season 6, but it's time to add a girl to the mix!
Jordana Spiro, the lead actress of My Boys, has been cast as an "acolyte" of Professor Gellar AND Travis! So perhaps Spiro is a killer-in-training? Although the sweet Spiro doesn't look like she's capable of harming a fly, that could certainly be her secret!
We can't wait to see what this season of Dexter will bring!
Source