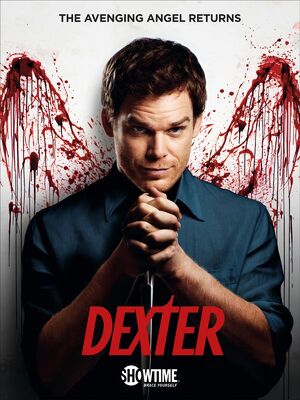 Feast your eyes on this creepy poster! There's been some wild rumors circulating about Christian motifs in Dexter Season Six as our favorite serial killer returns.
Although producer Nevins joked that Jesus will not be a character on Dexter this season, the awesome art certainly plays with the theme of Dexter's "Dark Passenger" as an avenging angel.
The question raised this season will be: "What does it mean to raise a child given the Dark Passenger I'm carrying around with me?"
This revelation along with a slew of big names as guest stars promises the biggest season of Dexter yet...and with even edgier, "Da Vinci Code-esq" storylines! We can't wait to see what Dexter will do next!
Source
Ad blocker interference detected!
Wikia is a free-to-use site that makes money from advertising. We have a modified experience for viewers using ad blockers

Wikia is not accessible if you've made further modifications. Remove the custom ad blocker rule(s) and the page will load as expected.