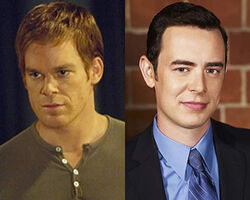 Colin Hanks is coming to Dexter! According to TV Line, Colin Hanks will be joining Dexter during a significant Season 6 arc. Could Hanks be the next villain/arch-nemesis to Dexter's anti-hero? For now, the producers are keeping mum about the details.
Here's what we do know so far: unlike the infamous Ice Truck Killer or Trinity whose roles are definitively villainous, this season's baddie will likely be more nuanced and plot-driven: "It is not [about] one big bad," he told us. "There's one interesting story that will move through the season, and it will be cast very interestingly, but it's not exactly that one person."
What do you think? What kind of character will Hanks portray?
Kate.moon 20:50, May 9, 2011 (UTC)
Ad blocker interference detected!
Wikia is a free-to-use site that makes money from advertising. We have a modified experience for viewers using ad blockers

Wikia is not accessible if you've made further modifications. Remove the custom ad blocker rule(s) and the page will load as expected.