Unnamed Bicyclist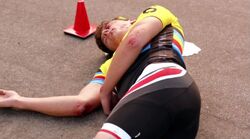 Character Profile
Season(s)
8
First Appearance
Goodbye Miami
Last Appearance
Goodbye Miami
Character
Full Name
Unnamed bicyclist



Status
Deceased
Manner of Death
Hit by a car
Characteristics
Age
20s
Gender
Male
Hair
Black
Personal Status
The Unnamed Bicyclist was a minor character appearing in DEXTER, Season Eight, Episode 10. He was found dead near his bike at a crime scene, where Angel Batista concluded that the man stuck his middle-finger out at a car driver, to which the latter responded by running him over. The killer's identity was never mentioned at the scene and had received no mention after the incident either, while also not coming into contact with Dexter Morgan (who was, at the time, preoccupied with killing Oliver Saxon and leaving the country with Hannah McKay).
Trivia
This is the only crime scene that the majority of the characters do nothing at. While Angie Miller makes her return at this crime scene, there's only a very passive comment in regards to what happened to the victim and that is the end of it.
As such, this victim has virtually nothing to do with the story, and the entire scene only seems to provide a "location" for Dexter to tell Batista that he's leaving Miami. The killer, the victim, and the entire storyline remain unknown due to the current focus on Oliver Saxon and Dexter's leaving the country. In turn, that makes this the only victim and crime scene with no purpose to the story whatsoever, and was not used in any way.
Gallery