Tyler Kale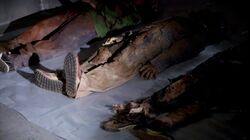 Character Profile
Portrayed By
None
First Appearance
Dexter
Last Appearance
Dexter
Character
Full Name
Tyler Kale
Aliases
None
Status
Deceased
Manner of Death
Killed by Mike Donovan
Characteristics
Age
14
Gender
Male



Personal Status
Tyler Kale is a character from DEXTER as well as the Dexter Book Series.
He was a fourteen-year-old boy that was abducted, raped and killed by the pastor Mike Donovan, one of three in the series and seven in the book Darkly Dreaming Dexter. His body was buried beside a house owned by Donovan deep within the woods and Dexter Morgan dug up his corpse along with the bodies of two other boys to be a reflection of Donovan's crimes (where normally he would use pictures or video showing the victim, here he actually only had the bodies to work with). One of the corpses was unfortunately so decayed that he had to be removed piece by piece from his hole.
The bodies of the boys were likely discovered at the Donovan household, as the official Showtime website [1] declares the location to be Mike's house. Even though the area with the three graves is outside of what appears to be a graffiti covered shack.
References