Trent Casey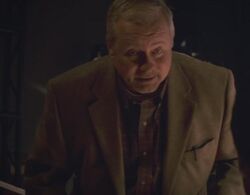 Character Profile
Portrayed By
Alex Hyde-White
Season(s)
Season Six
First Appearance
Get Gellar'
Last Appearance
'Get Gellar'
Character
Full Name
Trent Casey



Status
Deceased
Manner of Death
Killed by Travis Marshall
Characteristics
Age
52 (at death)
Gender
Male
Eyes
Blue
Hair
White
Personal Status
Professional Status
Profession
College Profesor
Dexter: "He's kind of a self-important asshole...but I like him"
Trent Casey is a character in the Season Six of DEXTER. Casey was a professor at a local college. He was an outspoken atheist professor, which caused him to be the ideal target for "The Bowls of Wrath" by the Doomsday Killer, who at the time was believed to be Professor James Gellar. Dexter attempts to warn Casey, who arrogantly responds by saying that he is always receiving worthless death threats. Later, Dexter and Travis Marshall return to the college to attempt to catch Gellar before he can kill Casey, but they are too late. His right hand was cut off, and he was drained of his blood, similar to Brian Moser's victims. When his body was moved by Vince Masuka, a large quantity of his blood fell on everyone at the scene.
Trent's blood was then used to write: Bring the false prophet to the church on the bathroom wall of Travis' apartment. His hand was also left in the sink.
With the later revelation that Geller was a schizophrenic hallucination, it is likely that Travis trapped Dexter in the elevator and killed Casey before 'freeing' Dexter, claiming that Geller simply evaded him.