Tony Rush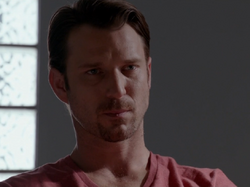 Character Profile
Portrayed By
Wil Travel
First Appearance
Sunshine and Frosty Swirl
Last Appearance
Sunshine and Frosty Swirl
Character
Full Name
Tony Rush



Status
Deceased
Manner of Death
Stabbed through the eye by Isaak Sirko
Characteristics
Age
20s to 30s (at death)
Gender
Male
Eyes
Green
Hair
Brown
Personal Status
Marital Status
Single



Professional Status
Profession
Bouncer at Foxhole
Tony Rush is a character appearing in Season Seven of DEXTER.
Appearance
Edit
Early Life
Edit
For a number of years he worked as a bouncer at a strip club called the Foxhole and started dating a stripper who worked there named Kaja Soroka
Season Seven
Edit
Eventually Kaja Soroka went home with a local at the club named Viktor Baskov and ended up killed by him. After he heard about her death he quit working at the Foxhole and went home. He was eventually brought in by the police in regards to her murder as well as the murder of Detective Mike Anderson and inadvertently gave them Viktor's name and revealed he was Kaja's boyfriend. He is later payed a visit by Isaak Sirko and his associate Jurg Yeliashkevych to discuss Viktor Baskov. He told them he had nothing to do with it but revealed he gave Viktor's name to the police. He waited for Isaak to finish talking and is then stabbed in the eye with his own screwdriver by Isaak.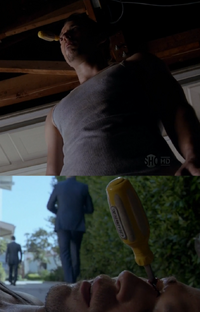 Ad blocker interference detected!
Wikia is a free-to-use site that makes money from advertising. We have a modified experience for viewers using ad blockers

Wikia is not accessible if you've made further modifications. Remove the custom ad blocker rule(s) and the page will load as expected.