Tony Rodriguez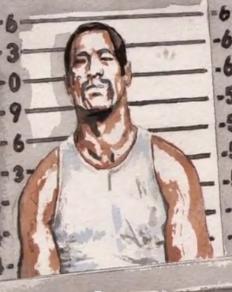 Character Profile
Portrayed By
Unknown
First Appearance
Dexter Early Cuts - All in the Family, Chapter Two
Last Appearance
Dexter Early Cuts - All in the Family, Chapter Two
Character
Full Name
Tony Rodriquez



Status
Alive



Characteristics
Age
Mid-30s
Gender
Male
Eyes
Brown
Hair
Brown
Personal Status
Marital Status
Single



Professional Status
Profession
Airport baggage loader
Killer Profile
"No Known Alias"
Inactive
Number of Victims
1
Modus Operandi
Tools/Weapons
Gun
Killing Method
Shooting
Method of Disposal
None
Cause
Unknown
Tony Rodriguez is a character in Dexter Early Cuts and one of Dexter's attempted victims.
Early Cuts
Edit
About a week before New Year's Eve Tony Rodriquez killed his best friend for unknown reasons. The police were sure he did it, but the DA declined to prosecute him due to an underwhelming amount of evidence. Dexter tried tracking him down to his last known address, but someone named Julian Bellows was living there. He soon realized that Tony had left and didn't leave behind a forwarding address.
Ad blocker interference detected!
Wikia is a free-to-use site that makes money from advertising. We have a modified experience for viewers using ad blockers

Wikia is not accessible if you've made further modifications. Remove the custom ad blocker rule(s) and the page will load as expected.