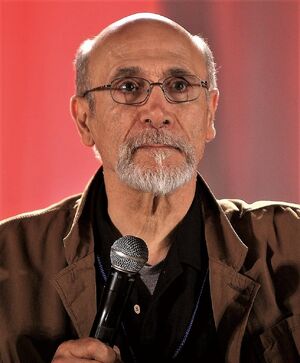 Tony Amendola (born 24 August 1951) is an American actor.
He played Santos Jimenez, a drug dealer and murderer, on Showtime's DEXTER.
Appearances
Career
Amendola is perhaps best known for playing the Jaffa master Bra'tac in Stargate SG-1. He had recurring roles as revolutionary leader Edouard Kagame of Liber8 in the television show Continuum and on ABC's Once Upon a Time as Pinocchio's creator/father, Geppetto.
His major film roles include Blow, The Mask of Zorro and its sequel, The Legend of Zorro..
His stage credits include playing Tupolski in the Berkeley Repertory Theatre's production of The Pillowman as well as Shylock in the Utah Shakespearean Festival's production of The Merchant of Venice in 2010. Since 2014, he has been the voice actor for Khadgar, one of the central characters of the video-game World of Warcraft.
Personal Life
He was born and raised in New Haven, Connecticut. He attended Southern Connecticut State University and graduated in 1974. He went on to attend Temple University in Philadelphia, graduating in 1977 with a Master of Fine Arts Degree. He is married to Judith Marx.
Trivia
He speaks Spanish and Italian.
His interests include Italian cooking, museums, art galleries, and yoga.
He had never appeared in a commercial until April 2016.
Gallery