Timothy Brand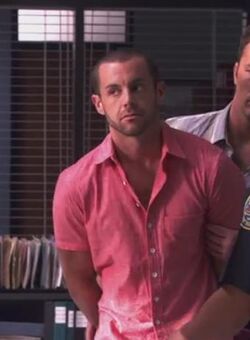 Character Profile
Portrayed By
John Griffin
First Appearance
Slack Tide
Last Appearance
Slack Tide
Character
Full Name
Timothy Brand



Status
Alive
Manner of Death
Incarcerated
Characteristics
Age
30s
Gender
Male
Eyes
Green
Hair
Black
Personal Status
Marital Status
Single



Professional Status
Profession
Assistant to Jonathan Farrow
Serial killer
Killer Profile
"No Known Alias"
Inactive
Number of Victims
4
Modus Operandi
Tools/Weapons
Unknown
Killing Method
He picks out South and Central American women that are in the country illegally and after Jon is finished taking pictures of them and leaves Timothy calls them to Jon's studio presumedly under the impression that Jon has more work for them then proceeds to bash them over the head and then kills them
Method of Disposal
Feed victims bodies to alligators
Cause
Unknown
Timothy Brand is a character in DEXTER. He was a serial killer who appeared in Season Four. His final victim was Estrella Carazo, however, her hand was found by the police. Initially the murder was believed by many (including Dexter Morgan), to have been committed by Jonathan Farrow. It is only after Dexter kills Farrow that Brand is arrested by Sargeant Angel Batista on solid surveillance and DNA evidence. Because of Farrow's sudden disappearance, it is believed by everybody (except Dexter) that Brand killed Farrow. Timothy has not been seen since his incarceration.
Victims