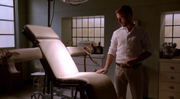 "
The Treatment Room
" was the room where
The Brain Surgeon
(
Oliver Saxon
) killed most of his victims and prepared them for display. It is designed the same way as the treatment room in the mental hospital in England, where Saxon was force-fed his meds if he refused to take them (which he states was the highlight of his day). Saxon had used this room for a number of years and at least 17 of his victims have perished here.
Victims Killed Here
Edit
Ad blocker interference detected!
Wikia is a free-to-use site that makes money from advertising. We have a modified experience for viewers using ad blockers

Wikia is not accessible if you've made further modifications. Remove the custom ad blocker rule(s) and the page will load as expected.