The Skinner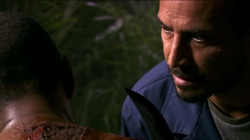 Character Profile
Portrayed By
Jesse Borrego
Season(s)
Season Three
First Appearance
The Lion Sleeps Tonight
Last Appearance
Do You Take Dexter Morgan?
Character
Full Name
Jorge Orozco
Aliases
George King
The Blade
El Fierro
Status
Deceased
Manner of Death
Neck snapped by Dexter Morgan
Characteristics
Age
46 (at death)
Birthday
20 October 1962
Gender
Male
Eyes
Brown
Hair
Black
Personal Status
Immediate Relatives
Unknown
Professional Status
Profession
Tree trimmer
Killer Profile
"The Skinner"
Inactive
Number of Victims
At least three
Modus Operandi
Tools/Weapons
Sharp tree-trimming knife
Killing Method
Interrogates and tortures victims to death by slowly removing strips of flesh from victims with a machete over a course of hours or even days.
Method of Disposal
Plain-sight
Cause
Orozco began skinning people as a way to find where Freebo was hiding. Freebo owed King some money for heroin, and when Freebo disappeared (or as we know, was killed by Dexter), King took it as a big showing of disrespect. King began skinning people he felt knew where Freebo was as a way to interrogate them and get them to spill the information he thought they knew. It was all about respect, not money.
For the character behind the serial killer, visit here.
The Skinner is the Main Antagonist in Season 3 of DEXTER,
Victims
Attempted Victims
Alleged Victims