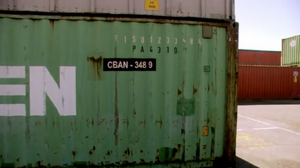 The Shipping Yard is the location in Showtime's series DEXTER where four people were brutally murdered by chainsaw inside one of the shipping containers.
One of the victims was Laura Moser (Dexter Morgan's mother). Both Dexter (age three) and his brother, Brian Moser, witnessed the murder. They were then abandoned inside the container, sitting in blood for two days.
When Officer Harry Morgan arrived at the scene, he found Dexter and Brian in a dreadful state. He first rescued Dexter, leaving Brian to be saved by other officers. Harry later adopted Dexter, but Brian was sent to an institution.
Victims Killed Here
Related Pages
Gallery