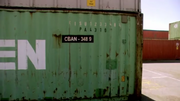 The Shipping Yard marks the location in Dexter where Laura Moser (Dexter's mother) was murdered inside of a shipping container (along with a few others), in front of Dexter and his brother, Brian Moser, who later became known as The Ice Truck Killer. Officer Harry Morgan found Dexter and Brian at the scene. He left Brian inside (who was eventually rescued by patrols) and picked up Dexter. Harry adopted him, raised him and when he learned of Dexter's dark urges, he decided to teach him a legitimate code.
Victims killed here
Miguel
Two unnamed junkies
Lt. Laguerta
Gallery
Ad blocker interference detected!
Wikia is a free-to-use site that makes money from advertising. We have a modified experience for viewers using ad blockers

Wikia is not accessible if you've made further modifications. Remove the custom ad blocker rule(s) and the page will load as expected.