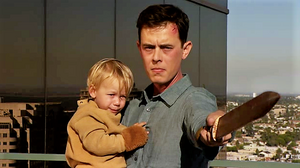 The Lamb is the last tableau in Travis Marshall's series of crime scenes.
Summary
Although a part of the tableaus, The Lamb is considered a minor one, and is also one of the two tableaus not to have a portrait painted to represent it.
The Lamb was originally an early experiment of Professor Gellar for unknown purposes. The concept of it, however, was later used by Travis himself as part of his last tableau to start the End of Days.
The tableau included one victim, but not the intended (because the intended victim escaped). It served as the place where a being of innocence is sacrificed in the last part of starting the End of Days. The tableau was unsuccessful in ending the intended target's life, Harrison Morgan, as he was rescued by his father Dexter just before Travis was going to kill him.
Victims
Unnamed Uniform Cop - As Harrison was rescued by Dexter, Travis took the officer's life to continue with the sacrifice of The Lamb as part of the tableau.
Attempted Victims
Related Pages
Trivia
References