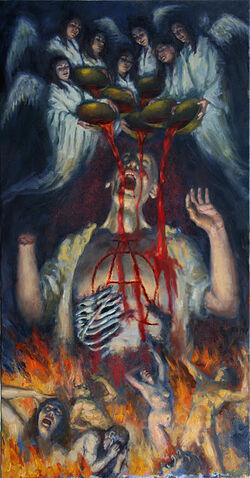 The Bowls of Wrath is a crime scene in DEXTER. The Bowls of Wrath is the fifth of the Doomsday Tableaus. At the scene, Trent Casey is found having his insides cut out while one of his hands was also removed. Seven bowls of his blood were set up around the top of the stage he was found, symbolizing The Bowls of Wrath.
Clues and Evidence
Edit
Victim(s) and Suspect(s)
Edit
Detectives, Forensics and Other Agents on Scene
Edit
Ad blocker interference detected!
Wikia is a free-to-use site that makes money from advertising. We have a modified experience for viewers using ad blockers

Wikia is not accessible if you've made further modifications. Remove the custom ad blocker rule(s) and the page will load as expected.