Tammy Okama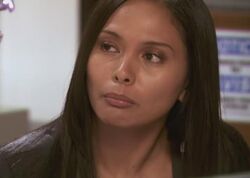 Character Profile
Portrayed By
Jane McLean
First Appearance
Go Your Own Way
Last Appearance
Do You Take Dexter Morgan?
Character
Full Name
Tammy Okama



Status
Alive



Characteristics
Age
30s
Gender
Female
Eyes
Brown
Hair
Black
Personal Status
Marital Status
Single



Professional Status
Profession
Wedding Planner
Tammy Okama is a party planner who organized Dexter's bachelor party and briefly dated Vince Masuka.
History
She runs a party planning business and she has an assault record.
Season 3
During Vince's frustrations over planning Dexter's bachelor party, Joey gave him Tammy's number and they soon meet afterwards to plan. Tammy and Vince hit it off while deciding that Dexter would have a party on the sea on the "Party Boat." She gets her girls and organizes everything. After the party Tammy and Vince start dating and Vince even invites her to Dexter and Rita's wedding.