Suzanna Coffey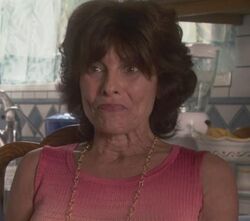 Character Profile
Portrayed By
Adrienne Barbeau
First Appearance
Living the Dream
Last Appearance
Living the Dream
Character
Full Name
Suzanna Coffey



Status
Alive



Characteristics
Age
50's
Gender
Female
Eyes
Brown
Hair
Black
Personal Status
Marital Status
Single



Professional Status
Profession
Confidential Informant
Suzanna Coffey is a character in DEXTER. She was a confidential informant (CI) for Det. Harry Morgan.
While Harry was working as a police detective he and Suzanna met and he recruited her to be a confidential informant for the Miami Metro Police Department. At an unknown point Suzanna developed feeling for Harry but Harry didn't return those feelings.
During Debra's search for the woman who'd slept with her father while he was married to her mother she placed a call to Suzanna Coffey and met her at her house. She eventually responded and talked to Debra where she revealed that she wanted to sleep with her father but Harry refused. This left Debra wondering who it was that Harry had cheated with.
Ad blocker interference detected!
Wikia is a free-to-use site that makes money from advertising. We have a modified experience for viewers using ad blockers

Wikia is not accessible if you've made further modifications. Remove the custom ad blocker rule(s) and the page will load as expected.