Stuart Frank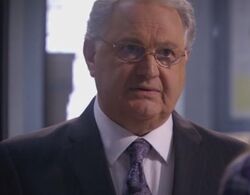 Stuart Frank is a new character introduced in Season 5 of DEXTER. He appears to be affiliated with Jordan Chase, possibly representing him as his attorney.
Appearance
Edit
Stuart appears to be man in his 60's, wearing dressuits common of people in business and the law firm. He has combed white hair and somewhat of a heavyset face and body, wearing glasses in addition to his attire.
Personality
Edit
Stuart comes off just like any other attorney. He's strict, to the point but he cares about his client's interests above all else.
Stuart arrives with Jordan Chase and four security guards when they enter the police station. He meets up with Debra Morgan and Joey Quinn, discussing the events of the Barrell Girls Case as well as Cole Harmon and several other people involved. Stuart goes on to describe his feelings of the matter and how it can't implicate Jordan, though agrees to a DNA swab in the end.
Ad blocker interference detected!
Wikia is a free-to-use site that makes money from advertising. We have a modified experience for viewers using ad blockers

Wikia is not accessible if you've made further modifications. Remove the custom ad blocker rule(s) and the page will load as expected.