According to Dexter, a high-rise penthouse,
Steve Gonzalez's Penthouse
is a somewhat very wide penthouse located on the upskirts of Miami, on the last floor of a huge apartment building.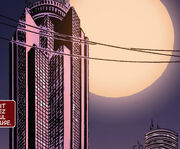 Inside the Penthouse
Secret room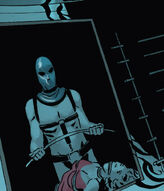 Inside the Penthouse, only accessed by the entrance located on a closet, Gonzalez has a secret room or compartment with objects and paintings of sexual nature. There he also has a safe with various documents including power of attorneys, and birth certificates belonging to
Arthur Bleek
,
Deron Saunders
,
William Metz
and many other persons.
Inside one of the paintings or photos, there is a hidden camera which recorded Dexter, when the latter secretly entered the hidden room on Issue #3.
See also