Steve Dorsey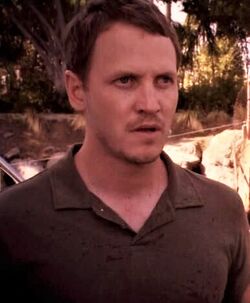 Character Profile
Portrayed By
Kyle Davis
First Appearance
Get Gellar
Last Appearance
Talk to the Hand (Corpse)
Character
Full Name
Steven Dorsey
Aliases
Doomsday_Adam
Doomsday Adam
Status
Deceased
Manner of Death
Killed by Dexter Morgan
Characteristics
Age
33 (at death)
Gender
Male
Eyes
Blue
Hair
Dirty-blonde
Personal Status
Marital Status
Married
Spouse
Beth Dorsey (deceased)
Immediate Relatives
Beth Dorsey (wife; deceased)
Professional Status
Profession
Disciple to the Doomsday Killer
Unemployed
Steve Dorsey is a character in DEXTER. He was a frequent poster on Professor Gellar's website, under the name Doomsday_Adam. He and his wife, Beth Dorsey, are taken in as Travis Marshall's disciples, and they aided in the death of Holly Benson aboard Peter Grant's yacht. 
Later, he is seen working on "Wormwood", wearing a hazmat suit. Dexter Morgan gets on the yacht, and, believing him to be Travis, attempts to inject him with M99. But Steve notices him, and grabs a knife. A struggle ensues, which results in Dexter stabbing him, possibly in the lungs or the solar plexus. Dexter throws him to the floor, and takes his mask off, revealing it was actually Steve the whole time. After that, Steve tells Dexter he is too late, and then dies on the floor of the yacht.
Known Victims
Edit
Attempted Victms
Edit
Ad blocker interference detected!
Wikia is a free-to-use site that makes money from advertising. We have a modified experience for viewers using ad blockers

Wikia is not accessible if you've made further modifications. Remove the custom ad blocker rule(s) and the page will load as expected.