Dex! A Killer Musical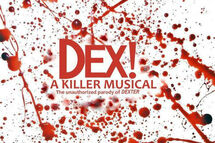 After rumors of Michael C. Hall's interest in a musical [based on Dexter], the series received an unofficial parody treatment similar in nature to other parody musicals such as "Potted Potter", "50 Shades" and "Silence!" Following a new trend in theatrical producing, "Dex! A Killer Musical" (the unofficial parody of Dexter) utilized crowdfunding as a way of maintaining integrity within the original cast and crew constructing the show. Instead of the formal approach involving a production company or substantial donors, the volunteer ensemble crew of "Dex!" opted to appeal to the fans of the series to make and produce the musical. 
Ad blocker interference detected!
Wikia is a free-to-use site that makes money from advertising. We have a modified experience for viewers using ad blockers

Wikia is not accessible if you've made further modifications. Remove the custom ad blocker rule(s) and the page will load as expected.