Sister Daniels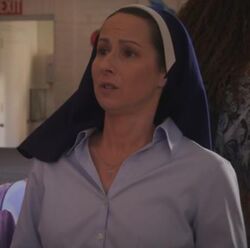 Character Profile
Portrayed By
Elizabeth Tobias
First Appearance
Get Gellar
Last Appearance
This is the Way the World Ends
Character
Full Name
Sister Daniels



Status
Alive



Characteristics
Age
40's
Gender
Female
Eyes
Green
Hair
Red
Personal Status
Marital Status
Single
Spouse
N/A
Professional Status
Profession
Teacher
Sister Daniels is a character in DEXTER. She is a teacher and nun at Harrison's preschool.
Appearance
Personality
Plot
Sister Daniels is first seen gathering all the children at Harrison's school together for lunch time. She is later seen as the organizer of the Noah's Arc play where she unknowingly lets Harrison slip away with known religious killer Travis Marshall. Dexter comes to her and asks where his son is only for her to tell him that he already left and he runs after him.
Ad blocker interference detected!
Wikia is a free-to-use site that makes money from advertising. We have a modified experience for viewers using ad blockers

Wikia is not accessible if you've made further modifications. Remove the custom ad blocker rule(s) and the page will load as expected.