Sheri Taylor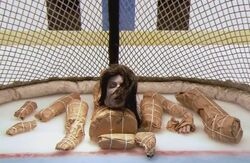 Character Profile
Portrayed By
None
First Appearance
Popping Cherry
Last Appearance
Popping Cherry
Character
Full Name
Sheri Taylor
Aliases
Cherry
Status
Deceased
Manner of Death
Killed by Brian Moser
Characteristics
Age
Late 20s to early 30s
Gender
Female
Hair
Black
Personal Status
Professional Status
Profession
Prostitute
Sheri "Cherry" Taylor is a character in DEXTER. A prostitute working the strip, she was associated with Debra Morgan who was undercover as a prostitute herself for Vice. Unfortunately for Sheri, she was targeted by The Ice Truck Killer who made her his third shown victim in Miami and displayed her on a sheet of ice for Dexter Morgan to find at an Ice Rink. Upon finding out that the body was Sheri's, Debra was hit with the fact that she lost someone she knew and later informed other prostitutes of her fate, trying to hone in on a lead for who killed her and the other girls.
Her body is set up far differently than the Pool Victim and Fountain Victim, with all pieces of the body except the head wrapped up completely and one of the leg portions apparently. In addition, one of her hands has the fingers uncovered to reveal that the tips are missing. The body is positioned almost like presents in the goal of the Ice Rink, with the head being placed on top of the torso for display.
Ad blocker interference detected!
Wikia is a free-to-use site that makes money from advertising. We have a modified experience for viewers using ad blockers

Wikia is not accessible if you've made further modifications. Remove the custom ad blocker rule(s) and the page will load as expected.