Shanda: "What's wrong with being a fuckin' whore?"
Shanda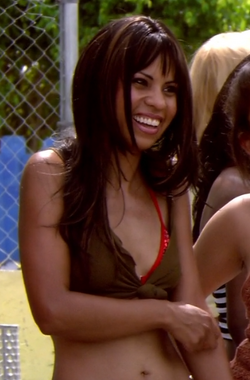 Character Profile
Portrayed By
Lizette Carrion
First Appearance
Popping Cherry
Last Appearance
Circle of Friends
Character
Full Name
Shanda (assumed prostitute name)
Aliases
Shanda
Status
Alive



Characteristics
Gender
Female
Eyes
Brown
Hair
Black
Personal Status
Professional Status
Profession
Prostitute
Shanda is a character in DEXTER. She is a prostitute with connections to Debra Morgan, whom she knew at the time as "Brandy" (believing her to be a prostitute as well).
Plot
When one of their girls ends up as a victim of the Ice Truck Killer, Deb visits Shanda as well as Bella, Gabrielle and Bridget (who flees when she learns that Deb is a cop). Despite the truth about Deb being a cop, Shanda is still convinced she's a prostitute one way or another but claims that even with the Ice Truck Killer loose, she isn't leaving town. Later, she visits Debra at the Miami Metro Police Department, hoping to score a favor from her friend in dealing with her landlord. Deb kind of plays it off and likely promising this favor to her, asks for something in return. With the recent recovery of Tony Tucci, Debra wanted to do something nice for him so she had Shanda come in and sleep with him, which he was very excited about. It would appear that when he was finally ready to go home, that Shanda still hung around him and that the two likely entered somewhat of a relationship.
Of the four prostitutes that Debra encounters, she is the only one to be featured in multiple episodes even if just as a background character with a few speaking roles. She's also the only one to really see any story development, unless Gabrielle actually fled to Ohio, but after Tony is released from the hospital, none of the prostitutes are shown again.