Sergeant Lopez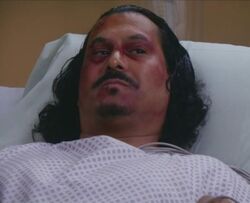 Character Profile
Portrayed By
Gino Montesinos
First Appearance
Hello Bandit
Last Appearance
Beauty and the Beast
Character
Full Name
Mr. Lopez



Status
Alive



Characteristics
Age
30s
Gender
Male
Eyes
Brown
Hair
Black
Personal Status
Professional Status
Profession
Sergeant for the Miami Sheriff's Department
Sergeant Lopez is a character in DEXTER. Lopez is a Sergeant with the Miami Sheriff's Department. He runs into Sergeant Angel Batista in a bar and a fight ensues because Lopez said that Lieutenant Maria LaGuerta, whom he was married to at the time, gives the best blow jobs in Miami. He later files a complaint against Batista after he collapses on duty and was taken to the hospital. Because of his condition, Lopez decided to press charges. He later has a talk with Batista and decides to drop the charges though the investigation isn't cancelled.
Ad blocker interference detected!
Wikia is a free-to-use site that makes money from advertising. We have a modified experience for viewers using ad blockers

Wikia is not accessible if you've made further modifications. Remove the custom ad blocker rule(s) and the page will load as expected.