Scott Smith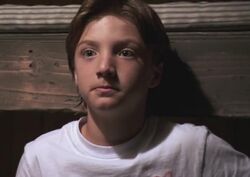 Character Profile
Portrayed By
Jake Short
First Appearance
Lost Boys
Last Appearance
The Getaway
Character
Full Name
Scott Smith



Status
Alive



Characteristics
Age
10
Gender
Male
Eyes
Blue
Hair
Brown
Personal Status
Immediate Relatives
Nick Smith (father)
Barbara Smith (mother)
Abby Smith (sister)
Professional Status
Profession
Student
Scott Smith was an attempted victim of Arthur Mitchell, who he captured in an arcade. While at first Scott seems to fear Arthur and is resistant to him, he eventually feels sympathy for Arthur after he (Arthur) tells him (Scott) the story of his sister, Vera Mitchell. Arthur then drugs Scott, and attempts to bury him alive in cement, but is saved by Dexter Morgan.
Later, he is seen being interviewed by Debra Morgan, where he recalls how Arthur kidnapped and drugged him.
Ad blocker interference detected!
Wikia is a free-to-use site that makes money from advertising. We have a modified experience for viewers using ad blockers

Wikia is not accessible if you've made further modifications. Remove the custom ad blocker rule(s) and the page will load as expected.