Sara Prado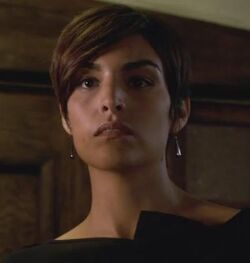 Sara Prado is a character in DEXTER. She is the wife of Lieutenant Ramon Prado of the Sheriff's Department and is a stay at home mom raising the kids while her husband works to catch her brother-in-law's "murderer" Freebo.
Appearance
Sara is an attractive Latina woman with short light brown hair and brown eyes.
Personality
She has a caring personality, always concerned for her husband Ramon's, extracaricular activities and his time away from the family.
Early Life
Plot
Sara along with her husband Ramon Prado and his brothers Miguel and Oscar all make their appearance in Season Three. She is not seen again after this season, nor is Sylvia or her husband Ramon.
Season Three
She is not seen much but when she is it is usually with her husband Ramon and her two children. After Oscar's death, Ramon becomes increasingly unstable as Sara tries to talk to him but Ramon doesn't listen and just wants to find Freebo. Dexter later visits her trying to find Ramon after Miguel's death but Sara has not seen him and later Ramon is arrested for holding a gun against Dexter. After Ramon is released from custody it is assumed that she and Ramon lived together happily with their children.