Sam Witwer is an actor who plays Neil Perry, a character portrayed on the Showtime series DEXTER. He was featured in Season One as a deranged man that claimed to be the Ice Truck Killer, however when Dexter Morgan met him he was proven wrong in the events following and hasn't been mentioned since.
Appearances in Television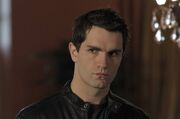 Sam plays the lead vampire Aidan Waite in the hit Syfy series Being Human. A vampire turned by James Bishop, he lives his life trying to be human along with a werewolf named Josh Radcliff and eventually meets up with a ghost named Sally Malik. Because of his status as a vampire close to Bishop, he is essentially a driving force in the plot and can be seen as the main protagonist of the series.
Of interest, James Bishop is played by Mark Pellegrino who also played Paul Bennett on DEXTER however the two actors never interacted with each other in the Showtime series.