This article/section is a stub
This article/section is short and lacking information. You can help the Dexter Wiki by expanding it.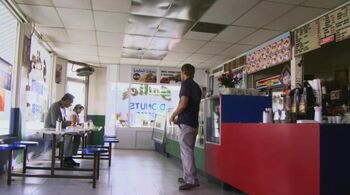 Sadie's Donuts & Coffee is a Location in DEXTER. This is the prime establishment where Dexter Morgan purchases donuts every so often to bring into the Miami Metro Police Department, as part of his "mask" for the general public. Because of this, he's considered the "donut guy" and has been to this establishment since prior to Season One and still uses it even in Season Six and Seven.
The inside of the shop is rarely seen but it is the practical setup of a bakery, featuring donuts and other pastries within a glass display case. The shop contains various small tables where two people can sit to eat in or hang around the shop, as Louis Greene and Jamie Batista show them sitting at one of these tables. A full shot can be seen of the shop in Season Three when Miguel Prado and Dexter Morgan visit it in Go Your Own Way.
Employees
So far only one employee has been show, known as Francisco. He appears to be a generous, helping shopkeeper that helps his customers as needed and even provides Dexter with some advise at times (on what type of Donuts would be best used for particular situations).
Trivia
The shop actually exists as a real donut shop, known as Colonial Bakery & Donuts in 355 Pacific Ave. (however stated as being at the southwest corner of 4th & Pacific Avenue in Long Beach, California. Apparently, the location is somewhat "shady," so it is advised to exercise caution.[1]
References