Rosalia Davalos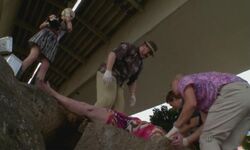 Character Profile
Portrayed By
Unknown
First Appearance
Smokey and the Bandit (Corpse)
Last Appearance
Smokey and the Bandit (Corpse)
Character
Full Name
Rosalia Davalos
Aliases
None
Status
Deceased
Manner of Death
Killed by The Tooth Fairy
Characteristics
Age
Early 30s
Gender
Female
Eyes
Unknown
Hair
Brown
Personal Status
Marital Status
Single



Professional Status
Profession
Prostitute
Rosalia Davalos is a character in DEXTER. She was the 16th victim of Walter Kenney (AKA The Tooth Fairy Killer) and was also a prostitute. It was revealed that she had been beaten and strangled to death and her left lateral incisor was partially removed (chipped) from Walter attempting to rip it out with his pair of pliers.
Ad blocker interference detected!
Wikia is a free-to-use site that makes money from advertising. We have a modified experience for viewers using ad blockers

Wikia is not accessible if you've made further modifications. Remove the custom ad blocker rule(s) and the page will load as expected.