Roberto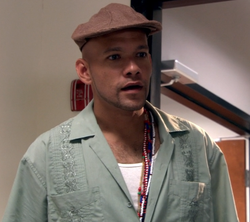 Roberto is a Character on Showtime's series DEXTER.
He was a Cuban-American and the uncle to Oscar, a ten-year-old immigrant who was found hiding at the junkyard belonging to Jorge Castillo. Jorge and his wife acted as coyotes, imprisoning Cuban immigrants until their families paid a high fee to release them. If the fees weren't paid, the immigrants were taken aboard Jorge's boat, drowned in a fish holding tank, and then dumped into the ocean.
Lieutenant Maria LaGuerta quickly formed a bond with young Oscar, and even considered adoption. However, Oscar's Uncle Roberto was located in Tampa and he traveled to Miami to pick him up. Oscar was very happy to see Roberto, who expressed the same joy to see his nephew. Roberto hugged Oscar and remarked that he was a special boy. Oscar left for Tampa with his Uncle Roberto, but not before he gave Lt. LaGuerta a kiss on her cheek.