Rita Morgan (Novels)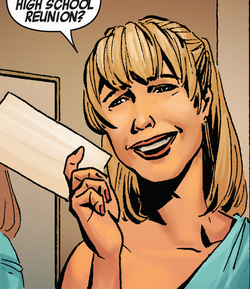 Killer Profile
"No Known Alias"
Inactive
Number of Victims
1
Modus Operandi
Tools/Weapons
Table Saw
Killing Method
Kicked Brandon Weiss twice with her legs which caused his arm being sliced by a table saw. Eventually, he bled to death.
Method of Disposal
Left in public
Cause
Self-defense and fear for her children.
For the character from the TV series, see Rita Morgan
Rita Morgan is a character in the Dexter Book Series and Dexter Comics.
She is a signicant character to the novel series, she is the woman who Dexter uses as a disguise to fit in to society. Dexter's "love" for Rita seems less sincere than it does in the television series; he only considers her a part of his disguise. She has had two children from a previous relationship, Astor and Cody, who were abused by their father. They are, by a humorous misunderstanding, engaged in Dearly Devoted Dexter and married at the end of Dexter in the Dark. It is never said in the books how they met. In the books, Rita is also something of an exercise fanatic; she and Dexter regularly go for 5k runs, long bike rides, or weightlifting sessions together. In the fifth book, Dexter is Delicious, Rita gives birth to a girl, Lily Anne. In the seventh book, Dexter's Final Cut, she is murdered by pedophile Robert Chase after she caught him molesting Astor.
Appearance
Edit
Personality very nice and sweet
Edit
Relationships
Edit
Dexter is Rita's husband, and father to her third child, Lily Anne.
Astor is Rita's oldest child, a girl.
Cody is Rita's middle child, a boy.
Lily Anne is Rita's youngest child. In the television series, she is replaced by Harrison Morgan.
Ex-husband
Edit
Rita was married and divorced some time prior to the novel series beginning. Unlike the TV show, Rita's ex-husband is never mentioned by name, and has yet to make an appearance in any sort of capacity.
Deborah is her sister-in-law, from the third book on.
Brian is her brother-in-law, and realtor.
Brandon Weiss - kicked him twice with her legs (becuase her arms were still bound) in self-defense which cause him to fall on a table saw. It cut off his arm and he, eventually, bled to death. ("Dexter by Design")
Ad blocker interference detected!
Wikia is a free-to-use site that makes money from advertising. We have a modified experience for viewers using ad blockers

Wikia is not accessible if you've made further modifications. Remove the custom ad blocker rule(s) and the page will load as expected.