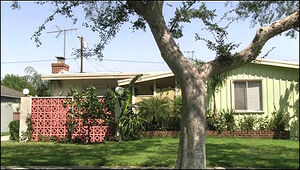 Rita's House is a major location within the DEXTER universe, the address being 3319 Meadow Lane, near Kendall.[1] They move to this house after the wedding (episode 1 season 4); and live there until Rita gets killed in the season 4 finale. It still has a purpose in Season 5. The owner of the house, or at least who was renting it, was Rita Bennett and it is currently set to be rennovated and made into a new home for purchase. However, the house is currently a hideout for Lumen Pierce at the end of Episode 6 for Season 5, though that may change in time.
Occupants
Below is a list of occupants that have lived in the house.
Rita Bennett/Rita Morgan - The owner/leaser of the building, she raised her two kids here and even allowed Dexter Morgan to move in with her after they were married. Unfortunately, Rita Bennett was murdered by Trinity during the finale of Season 4 and after her death, the house became Vacant. Dexter decided that living in the house would be too painful for Astor and Cody, whom were hellbent on living there...and they decided to move in with their grandparents, while Dexter remained at his apartment with Debra.
Dexter Morgan - The spouse of the owner/leaser, he originally stayed over every now and then while keeping in his own apartment. During Season 2, he also stayed at Lila's Apartment for some duration off and on between Rita's house as well. After the events of Season 3, he moved on to the house but still kept his old apartment until finally handing it over to his sister Debra Morgan and effectively setting up shop here, with a shed outback (after being inspired by Arthur Mitchell, who kept his tools in a garage). Dexter moved back to his apartment after Rita's death and has been recently packing up and moving all of their possessions. Currently he's housing Lumen Pierce at this location, while he lives at his apartment with his son Harrison Morgan.
Astor Bennett, Cody Bennett and Harrison Morgan - The children of Rita Bennett and Paul Bennett, with Harrison being the child of Rita Morgan and Dexter Morgan. Astor and Cody lived with their mother after their father was in jail, meeting Dexter along the way and gradually accepting him into their family (with Cody being the most accepting, seeing him as his father after Paul). They stayed here throughout the entire series up until the end of Season 4, where they were at Disneyland while their mother was murdered...and they moved in with their grandparents. Harrison stayed at this location for all of Season 4 until moving in with his father at his apartment in Season 5, he is currently watched daily by his nanny Sonya.
Debra Morgan - Debra stayed here for a short while after Frank Lundy's death and having been shot herself. She eventually moved into Dexter's Apartment but has more recently been staying at Quinn's Apartment.
History
Rita came into possession of the house sometime prior to the events of Season 1, most likely after she and Paul Bennett broke up. After Dexter Morgan started dating Rita, he would occasionally visit her at her house, play with the kids and go out on occasion. As the series progressed, he would stay overnight and be up in the morning to make breakfast for the family...gradually sinking into the role as "dad". Partway into the season, Ricky...a drug dealer that Paul knew, arrives at this location to try and get his money. When Rita tells him off, Ricky decides that it's best if she just give him the car...to which Dexter objects but is forced to stand down by Rita so that this whole mess can stay behind them.
SECTION TO BE CONTINUED
Trivia and Notes
References
↑

Dexter Morgan to Lumen Pierce in Season 5, Episode 6 "Everything is Illuminated"
Ad blocker interference detected!
Wikia is a free-to-use site that makes money from advertising. We have a modified experience for viewers using ad blockers

Wikia is not accessible if you've made further modifications. Remove the custom ad blocker rule(s) and the page will load as expected.