Ricky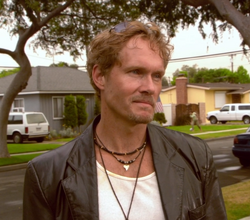 Character Profile
Portrayed By
Tom Schanley
Season(s)
Season One
First Appearance
Popping Cherry
Last Appearance
Popping Cherry
Appears in
One Episode
Character
Full Name
Ricky
Status
Unknown
Characteristics
Age
30s
Gender
Male
Eyes
Blue
Hair
Brown
Personal Status
Professional Status
Profession
Drug Dealer
Ricky is a Character on Showtime's series DEXTER. He's a drug dealing "associate" of Paul Bennett who shows up wanting his dues from Paul's ex-wife, Rita Bennett. He risks his neck facing Dexter Morgan but never even realizes it.
Description
Ricky is shown to be a man in his mid-30s with light brown, curly hair and a bit of facial hair lining his face. He has a very distinct shape to his face, that allows for a rather sinister-looking grin. He wears a black, leather jacket over top of a white undershirt with several necklaces hanging from his neck. He also wears tight blue jeans with a belt and oversized buckle.
Personality
Fake. He appears first with a cheery attitude, clearly masking his true intentions of either getting his money or something equivalent to the amount. Ricky shows that he has a violent streak to him, although he doesn't act on it (which probably would have led to Dexter demolishing him) and so he seems to be more bark than bite.
Summary
Rita's husband, Paul (a drug addict), had dealt with a few dealers before he went to jail for abuse. Unfortunately, one of the dealers finds his way to Rita's house to collect money that is owed to him. The dealer, Ricky, walks into Rita's front yard in a friendly manner, but she instantly realizes who this guy is. Rita, a protective mother, moves closer to her children.
Ricky starts off by mentioning calmly to Rita that Paul still owes him for two ounces of blow, but then he gets down to business. He throws out threats, and eventually demands to take possession of her car. Dexter opposes Ricky taking her car, but Rita tells him to back off and she goes inside the house to get the keys.
Meanwhile, Ricky and Dexter face off outside. Dexter, unafraid and standing firm, boldly stares at Ricky...yet the two do not fight. Rita emerges from the house and throws the keys at Ricky, who angrily picks them up and drives away in the car. Ricky does not return for any episodes thereafter, and it is unknown what happens to Rita's car.