Ray Walker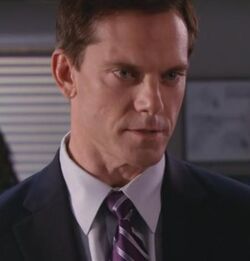 Character Profile
Portrayed By
Adam Harrington
First Appearance
My Bad
Last Appearance
Beauty and the Beast
Character
Full Name
Ray Walker



Status
Alive



Characteristics
Age
30s
Gender
Male
Eyes
Blue
Hair
Brown
Personal Status
Professional Status
Profession
FBI Agent
Oversees Protection on Mitchell Family
Agent Ray Walker is a character in DEXTER. Agent Walker is an FBI Agent assigned to the Trinity Case and following the death of Rita Morgan, he interviews and investigates her husband Dexter Morgan. Walker acts as a contact for Detective Joey Quinn, whose suspicion of Dexter begins to rival that of former Sergeant James Doakes.
Walker has his suspicions of Dexter when he first meets him but he is ultimately cleared of the charges while Walker returns to his duty as protective watch over the Mitchell Family, specifically Trinity's eldest son Jonah Mitchell. Quinn attempts to meet with Jonah at one point, investigating his suspicion of Dexter but is caught by the FBI and put under the radar by his own department. Lieutenant Maria LaGuerta, who has a close bond with Dexter and is deeply sympathetic to his loss, puts Quinn on immediate unpaid suspension.
Ad blocker interference detected!
Wikia is a free-to-use site that makes money from advertising. We have a modified experience for viewers using ad blockers

Wikia is not accessible if you've made further modifications. Remove the custom ad blocker rule(s) and the page will load as expected.