The Prosthetic Arm is an Object in DEXTER. The arm itself once belonged to a prostitute under the name of Monique but is best attributed to the Ice Truck Killer Case and specifically, Brian Moser the Ice Truck Killer. A unique feature about the arm is that not only did it symbolize Brian Moser's position as a prosthologist, but also the fact that each nail is colored differently (which, unknown to most of the public, is due to the way Laura Moser used to paint her fingernails).
The arm is considered the "Holiest of Holy" by Vince Masuka, as it was found at Brian Moser's residence among other evidence but is the most distinctive of pieces involving that investigation. Intern Ryan Chambers claims to have obsession over the case, even going so far as to have painted her nails the same color as the hand's for an entire week when the news came out about it. She ultimately decides to steal this piece of evidence, selling it on a website known as BuyThisTreasure.com where it is purchased by a man named Louis Greene, who ironically ends up taking the position as Masuka's new Intern after Ryan is "let go" due to her nearly putting the department at risk for what she did.
Later, the hand was shipped to Dexter Morgan, the brother of the Ice Truck Killer with several strange lines marked on the palm of the hand in reference to a "Palm Chart" Louis was observing. The exact meaning behind the lines is unclear as well as what this message was intended to be for Dexter.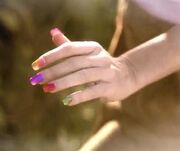 The original owner Monique lost her arm in an unspecified incident that required a prosthetic replacement. This arm has existed for at least Six Years now as the earliest known mention of it was from 2005 where Monique originally met Brian Moser as an unnamed "John", where he became fascinated with it as well as her imperfection. He painted each of the nails five colors (in respect of his mother's style) and seemed to "worship" it afterwards. Monique would continue to paint the nails that color throughout the years, as she "liked it".
Here is a list of owners for the hand:
Monique (At least 2005-2006, former owner)
Monique wore the hand as a replacement for her otherwise missing appendage. In addition, she wore a large ring on one of the fingers that Brian Moser would later attempt to use as an "engagement ring" for Debra Morgan. She was killed by Brian and the hand went into his possession.
Brian Moser (2006, former owner)
Brian obtained the hand after killing Monique, having taken the ring from it in order to propose to Debra Morgan. The hand remained at Brian Moser's residence until Miami Metro Homicide was alerted that he kidnapped Debra and they investigated his apartment, discovering him to be the Ice Truck Killer. The hand was placed into evidence along with many other items on scene, locked away for nearly 5 years.
Miami Metro Police Department (2006-2011, 2012, current owner)
Later, Dexter discovers the hand in his apartment, and uses it as a tool to get Louis Greene out of his life. Dexter sends the hand to the Department, where Masuka finds it, along with a note addressed to Louis Greene, identifying him as a seller. Vince promptly fires Louis, thus destroying half of his purpose in Dexter's life.
Ryan Chambers (2011, former owner)
Ryan obtains the hand from the evidence box, in order to sell it on a website known as BuyThisTreasure.com where she would obtain the profits to help pay for her apartment. She intended to also use evidence from the Bay Harbor Butcher Investigation and the Trinity Case, however the evidence from those cases were in possession of the FBI.
BuyThisTreasure.com (2011, former holder)
The site temporarily had the hand, as Louis Greene explains that in order for them to auction the item it must be actually given to the site (where it is later shipped to the buyer). Eventually the hand is bought for $1,200 by Louis Greene.
Louis Greene (2011, former owner)
Louis purchases the hand from BuyThisTreasure.com for yet unspecified reasons. He later erases any proof of the transaction occurring online and continues to hold onto it until after his encounter with idol Dexter Morgan, whom turns down his idea for the game Homicidal Tendencies. Louis, feeling that he needs to "get out into the world and make something of himself", is later seen drawing lines onto the palm of the hand from a "Palm Chart", before he places it carefully within a box to ship to Dexter Morgan
Dexter Morgan (2011, former owner)
Dexter has received the box, but he has not yet seen it. Travis Marshall opened the box and looked at the hand after he broke into Dexter's apartment. He did not know what it was, but looked at it curiously. After Travis heard Jamie Batista come in to pick up Harrison Morgan, he set it on top of Dexter's fridge.
The hand has appeared in 3 two seasons thus far.
Monique's prosthetic hand - its nails are polished the same way as Laura Moser's.
Masuka's intern, Ryan, steals the hand from evidence after Masuka shows it to her and sells it online. His new intern, Louis claims that he deleted any trace of the sale from the internet, but was unable to retrieve the hand. In reality, he has the hand the whole time and posts it to Dexter as a prank (with additional drawings on it).
After Dexter finds out that Louis is screwing with him, he posts the hand to Miami Metro Forensics, which leads it right to Masuka. Attached with it, is a letter detailing how Louis apparently tried to sell the hand online. This infuriates Masuka so much so that he fires Louis on the spot.
Ad blocker interference detected!
Wikia is a free-to-use site that makes money from advertising. We have a modified experience for viewers using ad blockers

Wikia is not accessible if you've made further modifications. Remove the custom ad blocker rule(s) and the page will load as expected.