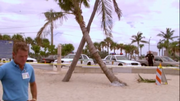 Petrie Beach, formerly known as Rand Beach, is a beach in Miami where Dexter Morgan and his foster family had a picnic when he was a child.
After going through Dexter's family album, his older brother Brian Moser uses this location to display Tony Tucci's severed left hand to Miami.
When James Doakes makes his way to the crime scene, he is followed by Carlos Guerrero's men who pursue him under orders from the boss.
Location
The real filming location of Petrie Beach is in Fort Lauderdale, Florida, at the tip of the South Beach Park
Gallery