Owen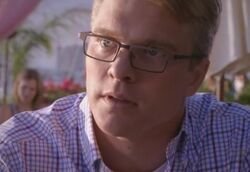 Character Profile
Portrayed By
David Paetkau
First Appearance
Take It!
Last Appearance
Take It
Character
Full Name
Owen
Aliases
None
Status
Alive



Characteristics
Age
30's
Gender
Male
Eyes
Blue
Hair
Blonde
Personal Status
Marital Status
Single
Immediate Relatives
Stephanie (sister)
Mark (brother-in-law)
Mavis (niece)
Owen is a character in DEXTER that is introduced during Season 5. He is the ex-fiancee of Lumen Pierce.
Appearance
Edit
Owen is a man in his early 30's with light, blonde hair. He wears glasses as well as a blue-and-white flannel button up shirt over a white undershirt with brown-kackie pants. Owen appears to be of average, muscular build with little to no fat on his figure.
Personality
Edit
Owen's personality screams out like a teenager madly in love. He rushed into a marriage with Lumen that ended badly on their wedding day yet he still harbors puppy-love feelings for her despite all this. Calling out like a child sick of where he lives, he follows her to Miami with a proposition to go "around the world" thus suggesting he's a very adventurous type. However, when Lumen stands him up, he rips her ticket up in anger and storms off to an airplane...suggesting he has a rather short temper despite the patience he was willing to give her in making a decision.
Lumen mentions Owen a few times throughout the course of the season, regretting that she tried to get married without wanting to settle down into that kind of life. Before she knew it, she had left...moving on down to Miami where she was abducted (until rescued by Dexter Morgan). Owen later calls her, after having arrived at Miami in search of her...and arranges a meeting.

The two meet a local cafe, where he is concerned about her having possibly met someone else but she denies that...and the two talk about their past and family. Eventually he brings up that he wishes to go with her around the world with a pair of tickets he bought, pronouncing that he still loved her despite all that happened. He remains patient with her, giving her the option to tell him the very next night her final decision...letting her go until that point. When she never arrives, Owen tears up her ticket and storms off...apparently leaving Miami to go around the world on his own.
Ad blocker interference detected!
Wikia is a free-to-use site that makes money from advertising. We have a modified experience for viewers using ad blockers

Wikia is not accessible if you've made further modifications. Remove the custom ad blocker rule(s) and the page will load as expected.