Olivia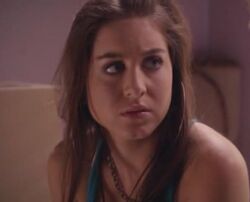 Character Profile
Portrayed By
Tabitha Morella
First Appearance
Teenage Wasteland
Last Appearance
Teenage Wasteland
Character
Full Name
Olivia
Aliases
None
Status
Alive



Characteristics
Age
14 (2010)
16/17 (2012)
Gender
Female
Eyes
Blue
Hair
Brown
Personal Status
Marital Status
Single
Immediate Relatives
Unnamed father (status unknown)
Unnamed mother
Olivia is a character on DEXTER. She is Astor Bennett's close friend, having met her after moving to Orlando with her grandparents. Her mother used to be with a man named Barry Kurt, an abusive man who likes to hit her "where it won't show".
Appearance
Olivia has long chestnut brown hair she keeps worn down, and appears to be around 14 years of age. She, like Astor in her latest appearance, wears relatively oversized hoop earings. Though normally kept hidden, she has multiple bruises on her stomach and back, received from her mother's ex-boyfriend, Barry Kurt. Although she has brown/chestnut hair.
Personality
Olivia is a typical teenager at heart. She owns a cellphone, texts constantly, badmouths her mom and has an adventerous nature when it comes to being so young, thus leading her to steal alcohol and run away from home (though it was for a good reason). She is however reserved about revealing her secrets and hides her stomach that is covered in bruises. Despite all this, she wishes to be free of this abuse and even ran away from home in an attempt to escape her mom's boyfriend, however, thanks to Dexter Morgan's intervention, she feels a tremendous burden lift from her shoulders. After Barry finally leaves the picture, she happily returns home to hug her mother in a touching moment, thus signifying that her life should get a lot better from here on out.
Plot
She was discovered to be beaten by her mother's boyfriend, Barry Kurt, so Dexter beat up Barry and told him to leave Olivia's mother and not return. Olivia was happy, and got dropped off at her mother's. She said goodbye to Astor and thanked Dexter.