Officer Smith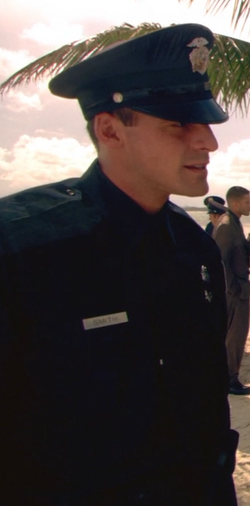 Character Profile
Season(s)
1
First Appearance
Popping Cherry
Last Appearance
Popping Cherry
Appears in
1 episode
Character
Full Name
Officer Smith
Aliases
None
Status
Alive



Characteristics
Age
30's
Gender
Male
Eyes
Green
Hair
Brown
Personal Status
Professional Status
Profession
Officer
Affiliation
Miami Metro Police Department
Officer Smith is a Character in DEXTER. He is a police officer in the Miami Metro Police Department and a friend of Detective McNamara. He is present at the funeral for Officer Ricky Simmons and stands beside Mac as he speaks with Sergeant James Doakes following the eulogy.
He asks Doakes if he's going after Carlos Guerrero, the crime lord that is ultimately responsible for the death of Ricky and his wife Kara Simmons. Doakes says that Guerrero ordered these hits and will make "something stick to that cocktail cocksucker".
Ad blocker interference detected!
Wikia is a free-to-use site that makes money from advertising. We have a modified experience for viewers using ad blockers

Wikia is not accessible if you've made further modifications. Remove the custom ad blocker rule(s) and the page will load as expected.