Officer Jackson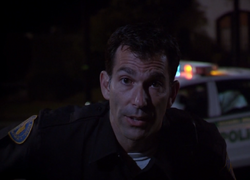 Character Profile
Portrayed By
Robert Mammana
First Appearance
Episode 501: My Bad
Last Appearance
Episode 501: My Bad
Character
Full Name
Jackson



Status
Alive



Characteristics
Age
30's to 40's
Gender
Male
Eyes
Brown
Hair
Black
Personal Status
Professional Status
Profession
Miami Metro PD Officer
Affiliation
Miami Metro Police Department
Officer Jackson is a Character in DEXTER. He is one of the first officers to arrive on scene following the murder of Rita Morgan by Arthur Mitchell. After two other officers pass by Dexter Morgan who is kneeling in the grass holding his son Harrison, Jackson and another young officer approach Dexter slowly asking him what happened here.
Dexter remains in a silent state as he thinks to himself on what just happened and holds Harrison close to him, in an attempt to calm his son. Jackson gets closer, saying that they're going to take the child into protective custody and urges Dexter to hand over the boy. He is interrupted when Dexter's sister Debra Morgan arrives on scene, telling the officer to "back the fuck off" while announcing she's a with Miami Metro Homicide as is Dexter.
Ad blocker interference detected!
Wikia is a free-to-use site that makes money from advertising. We have a modified experience for viewers using ad blockers

Wikia is not accessible if you've made further modifications. Remove the custom ad blocker rule(s) and the page will load as expected.