Officer Bronson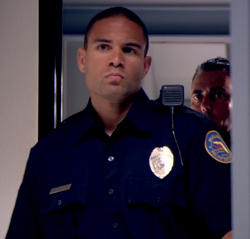 Character Profile
Portrayed By
Unknown
Season(s)
1
First Appearance
Crocodile
Appears in
1 episode
Character
Full Name
Officer Bronson
Aliases
None
Status
Alive



Characteristics
Age
30's
Gender
Male
Eyes
Green
Hair
Brown
Personal Status
Professional Status
Profession
Officer
Affiliation
Miami Metro Police Department
Officer Bronson is a Character on DEXTER. He is a police officer working for the Miami Metro Police Department, shown while Norberto Cervantes is being held in interrogation. Sergeant James Doakes and Lieutenant Maria LaGuerta interrogate him over the death of Officer Ricky Simmons and the shooting of Kara Simmons, Ricky's wife.
Bronson walks in, bringing with him the evidence found by Dexter Morgan at the Ricky Simmons Crimescene. In it is a piece of skin tissue, bitten off by Ricky before his death which belongs to Norberto. Bronson glares at Cervantes as he walks in, the tension heavy in the police department as one of their own has been killed like this. After delivering the evidence, he leaves the room while Doakes and LaGuerta continue to press Cervantes.
He continues to reappear various times throughout the season, working in the department.